Main image
Click to view image in fullscreen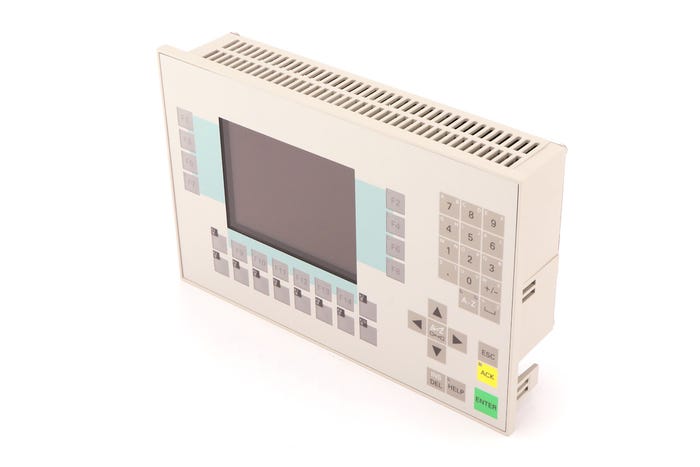 6AV3627-1JK00-0AX0
Siemens SIMATIC HMI - OPERATOR PANEL OP27 STN MONOCHROME
Request a quote for this product



Description
OPERATOR PANEL OP27 STN MONOCHROME LC DISPLAY
JC-Electronics is NOT an official authorized distributor for Siemens. The original manufacturer's warranty does not apply.
Product Questions (8)
What does it cost to repair an HMI at JC-Electronics?
Repairing an HMI is different for each item and status of the product. Therefore the costs of the repair are also different. For a quote please
contact our Customer Service
.
On average, how long does it take to have an HMI repaired by JC-Electronics?
Having an HMI repaired currently takes 12 weeks at JC-Electronics. Emergency repairs to repair an HMI takes approximately 5-8 business days. For a quote, please
contact our Customer Service Department
.
What is and does an HMI do?
HMI is an abbreviation for Human Machine Interface. An HMI is basically a control panel and often consists of a touch screen with built-in processor, memory and communication cards. Through an HMI, the operator can turn the machine or parts of it on or of
Can JC-Electronics repair all HMIs?
Yes, the technical specialists at JC-Electronics can test and repair all types of HMIs. Damaged parts of an HMI can often be replaced and the HMI is also fully cleaned.
How do you test HMI screens?
At JC-Electronics all functionalities of an HMI are 100% tested. This way we only deliver well tested, high quality products to our customers.
How do I know that my HMI is defective?
There are broadly two options for finding out that an HMI is defective. The first options is to replace the HMI with another one. A second option is to send the HMI to JC-Electronics for a diagnosis and test.
Can JC-Electronics update my HMI?
What should I do if my HMI crashes?
We found other products you might like!
Navigating through the elements of the carousel is possible using the tab key. You can skip the carousel or go straight to carousel navigation using the skip links.
Press to skip carousel